Bosch Secure Truck Parking and TRAVIS Road Services: New partnership provides the largest network of truck parking locations in Europe
In a new partnership, Bosch Secure Truck Parking and Travis Road Services will combine their parking services and provide freight forwarders with the highest number of bookable truck parking spaces. From beginning of 2023, users of Bosch Secure Truck Parking and Travis Road Services will be able to access a total of 15,000 parking spaces at well around 400 locations in 14 European countries.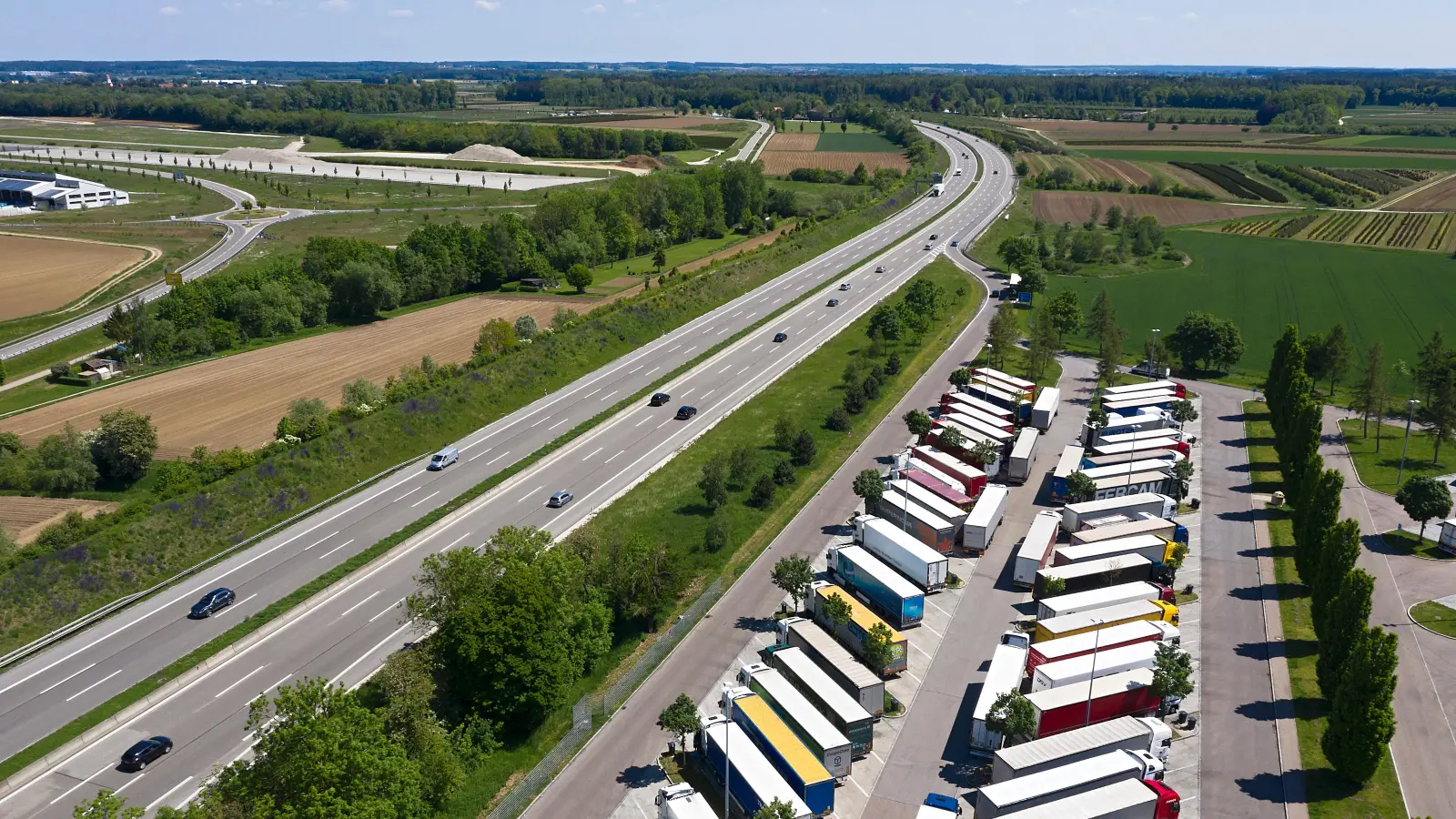 Let's talk with Dr. Jan-Philipp Weers, Head of Bosch Secure Truck Parking, and Dennis van Veggel, CEO of TRAVIS Road Service: Five questions & answers about this partnership, the two companies and related topics of the logistics and transport sector.
Mr. Weers and Mr. van Veggel: What is the new partnership about? And why do you think partnerships like this are important?
Dennis van Veggel: Truck parking is a service with a high demand in the Euro-pean market that cannot be met by existing supply. By combining our strengths, we can assist transportation firms in finding truck parking that match their needs in even more locations.
Dr. Jan-Philipp Weers: Travis is a fascinating company. Like us it offers truck parking, but their focus is on payment solutions for road services in general like truck wash or truck repair whereas we focus on technical parking solutions. That is why we see great synergies in combining our resources.
Mr. Weers: Bosch Secure Truck Parking is currently growing in Europe, also with access and security solutions. What are these solutions about and why are they important?
Dr. Jan-Philipp Weers: Together with partners we develop new innovative solu-tions which are tailored to the needs of logistics companies and truck parking operators. For example, our new plug & play IoT gate kit (which controls the incoming trucks at the access barriers to the areas) can be installed at any gate and offers an array of web-based services for the parking operator. Or the video monitoring solution that uses video analytics to identify theft on parked trucks and forwards alerts to our monitoring center.
Security solutions like these are important because of the increase in freight theft. According to recent studies in the EU 90.000 raids on parked trucks hap-pen each year, seventy-five percent of cargo theft takes place in unsecured parking lots. The financial loss due to freight theft alone is estimated at 8.2 bil-lion euros across Europe per year.
Mr. van Veggel: You started your first activities in the truck wash indus-try as a one-man show in 1994. Having nothing but a high-pressure cleaner and a bucket of suds you were knocking on transport compa-nies' doors asking if their vehicles need a cleaning. Today, Travis is rep-resented on a large scale in Europe, offering truck services like truck wash, truck repair and truck parking at over 1450 locations. What was key to success?
Dennis van Veggel: The key to success is providing solutions that simplify pro-cesses for clients who are unfamiliar with them. After evolving from no overview to digital overview, our customers have gained new insights and control of their road service usage. These days we would simply call it digitalisation, but a few years ago this was (and for some companies is) still quite uncommon. TRAVIS is a platform that new customers can use right away. It doesn't need to be in-stalled — our clients simply create an account and they can start. This simplici-ty helps facilitate innovation for customers.
The logistics industry is characterised by low profit margins. These low profit margins can make it challenging to invest in innovation. On the other hand, in-novation can be the differentiator in a primarily commoditised market. That is what will make the difference for transport companies in the future. Digitaliza-tion and working via a platform like ours will help these companies to Work more time and cost efficiently.
Mr. Weers and Mr. van Veggel: Shortage of truck parking spaces, cargo theft, shortage of drivers – just to list a few of the challenges the Euro-pean logistics sector faces. What do you think is crucial to address those problems?
Dr. Jan-Philipp Weers: We strongly believe that digitalization is key to these problems. In the future, trucks will have access to real-time information about available parking slots, navigation systems will automatically suggest suitable parking areas to the truck driver and in case of traffic congestion, the system will automatically cancel a reservation and re-book a new parking slot.
Dennis van Veggel: Indeed. Next to those challenges, road transport also has a substantial carbon footprint that we all want to diminish. In 2020, road transpor-tation accounted for twenty-seven per cent of all carbon dioxide emissions in Europe. So there is much to be gained. Increasing the fill rate and decreasing the number of kilometres driven contributes substantially to reducing the indus-try's carbon footprint.
With our combined network and an efficient platform, we alleviate parking space shortage and give registered transport companies a greater chance to reduce emissions. Planners and truck drivers can pre-book road services along the route or near their end destinations. If services are provided close to the driver's route, then there is no need for unnecessary detours. You can argue that planning your road services can save money and increase efficiency. And now we have increased our network and addressed the security issue.
Mr. Weers and Mr. van Veggel: What will shape the future of the logistics industry? Which kind of technologies do you think will be crucial?
Dr. Jan-Philipp Weers: The main trends affecting the trucking industry are con-nectivity, electrification and autonomous driving. These trends will make truck driving more efficient, more flexible and safer than all other transport systems. With our platforms we are both part of this change.
Dennis van Veggel: Data will become the main driver for transport companies in the future since data-driven decisions are the basis of any efficient opera-tion. Algorithms and artificial intelligence continue to get smarter. They can make great predictions, for example, how traffic and weather can affect the us-age of road services.
Get in touch with Bosch Service Solutions
We look forward to your inquiry.
Send us an email
Do you have any questions, ideas or requests? Write to us using the contact form.