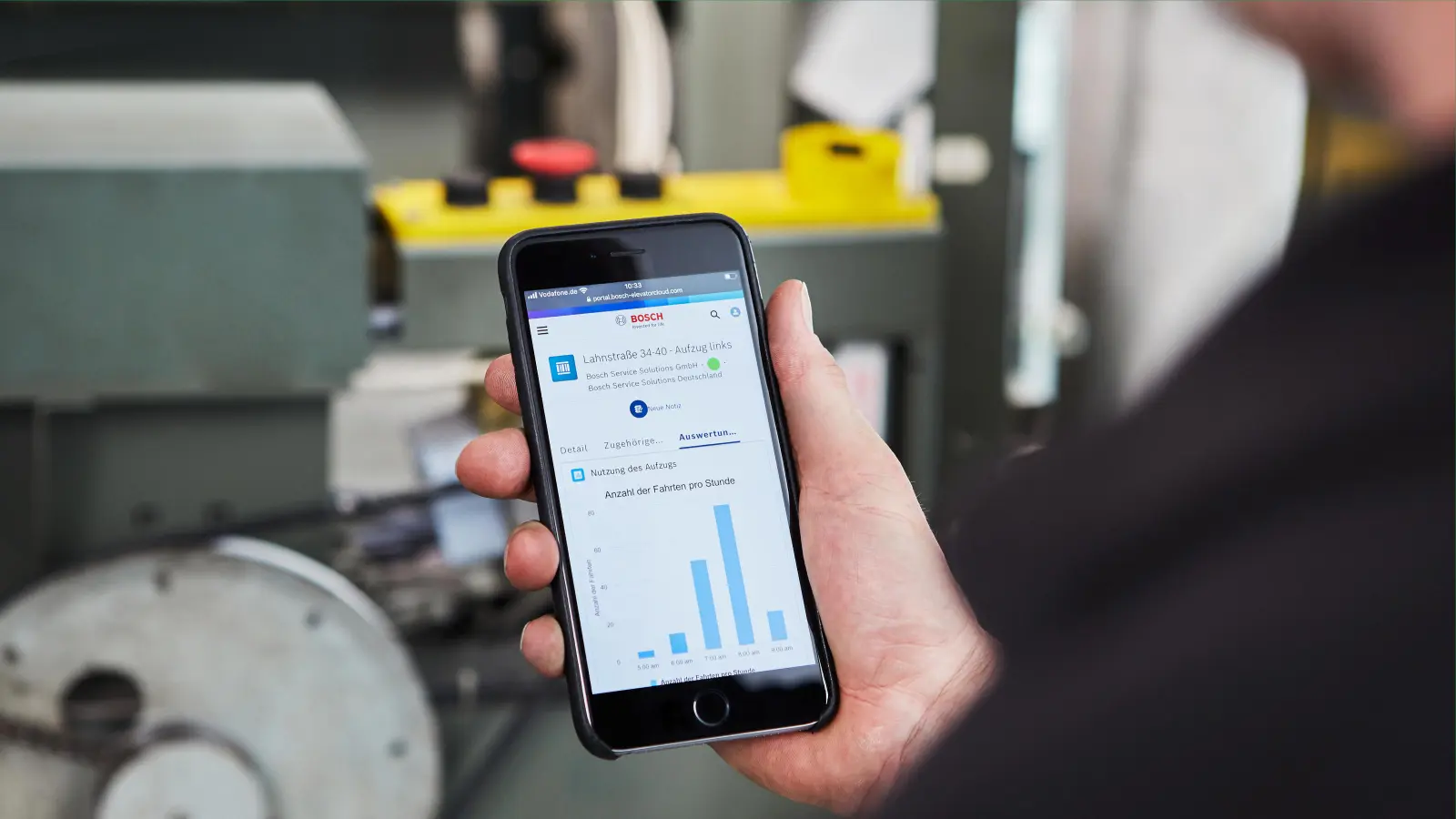 Now and then elevators break down – sometimes for weeks or even months. The Elevator Monitoring Service from Bosch Service Solutions helps to monitor the operation of elevators, even older models, and makes them safer. It helps to quickly detect malfunctions and downtimes, and solves issues in a timely manner. The retrofittable solution consists of three components: a sensor box, a cloud-based software platform and a comprehensive service offering with experienced experts in the Monitoring Center. The market launch has now taken place in Germany, with further regions such as Spain and Portugal planned. North America is also a market with potential in the future.
Bosch Service Solutions has been in the elevator business for a long time. What services do we offer in this area?
We started with the elevator emergency call over 30 years ago and have been able to gain a lot of experience and expertise during this time. In addition to the elevator emergency call, we also operate a number of other elevator-related services such as passenger rescue, risk assessment and visual inspection.
Elevator monitoring is an ideal addition to our portfolio. Can you explain it to us?
Our cloud-based monitoring solution can be retrofitted quickly and cost-effectively. The sensor box can be installed on the top of the elevator cabin in around 15 minutes via plug & play. It automatically transmits the data to the software platform in the Bosch Elevator Cloud for evaluation. This gives operators access to information on the status and incidents of their elevators at any time.
Any anomalies in operation or standstills are reported to our Monitoring Center. Then our service experts come into play. If necessary, they initiate repairs by informing operators or maintenance partners. This is done according to an action plan defined in advance with the customer to keep downtimes as short as possible.
Which sensors are in use?
Acceleration sensors record the number of rides, approaches per floor and anomalies in operation. Temperature sensors sound the alarm, for example, if it gets too hot in a glass elevator. In the next stage of development, we will also use magnetic sensors to keep an eye on door closing mechanisms. Around 60 percent of all failures are due to malfunctions in the elevator doors.
Can older elevators also be retrofitted?
The average age of elevators worldwide is 20 years, in Germany even around 30 years. We estimate that more than 85 percent of all elevators in Germany are not yet connected to the Internet. Our retrofit solution is ideally suited for these elevators in particular. With the simple installation of the sensor box, they can be digitized easily and cost-effectively to enable remote monitoring.
For which customers is our elevator monitoring interesting?
Our customers are elevator operators such as facility managers, elevator and component manufacturers, housing associations and all elevator operators. The system is also an interesting product for maintenance partners who can keep an eye on their customers' elevators at all times.
What are the benefits for our customers?
With the status and central documentation of all processes, we give our customers an insight into the operation of their elevators and provide quick help in the case of anomalies or downtime. Statistics help to optimize operations. For example, maintenance intervals can be aligned with the actual use of the elevator. Thanks to more efficient maintenance and repair processes, this can reduce operating costs. We can also tailor our solution to individual customers - from the provision of individual services to a complete package.
What distinguishes our elevator monitoring from the competition?
We are distinguished by our long experience in the elevator business and our distinctive service competence. A major advantage is the flat, ten-centimeter big sensor box that can be retrofitted in around 15 minutes – regardless of the age of the elevator, manufacturer or model.
Do we also work with external partners?
Yes, for example, we developed the sensor box together with SafeLine. SafeLine is a renowned company with a focus on the manufacture of elevator emergency call systems, announcement and display systems, and elevator controls. They have a lot of know-how and are well networked in the industry.
What will the maintenance models for elevators look like in the future?
The cloud-based analysis of elevator data opens up many interesting possibilities. It is a starting point for predictive maintenance services in the future. To this end, we are already collecting, structuring and evaluating a wide range of operating data.
How will our monitoring services envolve in the future?
We are planning to bundle all our elevator services in the Bosch Elevator Cloud, which we plan to expand in the future with additional IoT services within the infrastructure of a building. These already include monitoring of central heating and hot water systems. Our goal is to provide operators with a solution that allows them to keep an eye on sensitive systems in a building that may fail unexpectedly.
Get in touch with Bosch Service Solutions
We look forward to your inquiry.
Send us an email
Do you have any questions, ideas or requests? Write to us using the contact form.