Solutions for vehicle fleet management companies
Our fleet management services ensure drivers are always mobile
Vehicle fleet management companies face major operational challenges. Achieving their objectives is often not easy. Fleet managers have the daunting task of reducing repair and administrative costs, while at the same time increasing vehicle service life – and improving driver safety and user experience, as well. This is why fleet managers juggle countless duties in their day-to-day operations. Personally communicating with drivers and supporting them are often particularly time-intensive tasks. Fleet managers coordinate vehicle maintenance and repairs – scheduled and unscheduled – and deal with all the demands of accident management. Bosch Service Solutions take the load off fleet management firms in decisive ways. We take charge of handling many of these activities and personally communicating with your customers – enabling you to offer your customers a complete and comprehensive mobility package.
Differing fleet types demand customized service solutions
We integrate our tools seamlessly into your existing system landscape without any unnecessary complexity, thereby ensuring an inspiring customer journey.
Mobility Service Provider: Car sharing | Car leasing | Ride sharing | OEMs with alternative distribution channels

Business fleets: Company fleets (company cars, field service and pool vehicles) | Logistics fleet (delivery and courier services, food & beverage suppliers, third-party logistics (3PL) | Service fleets (construction and tow trucks, road maintenance depots)

Leasing companies: Supplying mobility service providers, company fleets, and individual end customers
We take care of drivers and vehicles along the entire value chain
We provide your drivers with around-the-clock support as a central point of contact at all the various stations along the driver journey. Our service experts work jointly with you to define, execute, and document all relevant processes – from individual work steps right through to complete workflow sequences. We also utilize self-service and automation elements for this purpose, and apply flexible resource planning in our work. For you, this translates into greater efficiency.
Managing leads and onboarding new drivers
Processing prospective customers' queries and requests for quotations
Managing campaigns
Providing support for selecting vehicles
Reviewing requests and proposals from businesses and consumers
Managing contingent contracts and other documents
Providing and managing welcome packages
Marketing & sales, financing, and contract management
Managing contracts, including credit checks and scoring
Reviewing financing and leasing requests for business-to-customer (B2C) and business-to-business (B2B) transactions
Registering and delivering vehicles
Taking charge of debt collection matters
Managing accounts, both payable and receivable
Advising on possible insurance coverages (e.g. liability and vehicle insurance)
Single point of contact between the insurer and driver
Collating and securing all related documentation:

Managing incidents
Processing damage, theft, and accident claims
Cooperating with insurers' departments and support units
Driver and vehicle services
Communicating with drivers across all channels
Providing on-site support for drivers: eCall rapid breakdown service, smartphone-based collision detection, roadside assistance, concierge service, stolen vehicle services, accident management, and emergency assistance
Service, maintenance and repairs: organizing workshop appointments, tire service, and vehicle towing service
Organizing vehicle refueling and recharging
User Account Management
Managing complaints and feedback
Managing contracts at end of term (EoT): termination or renewal
Providing support for loyalty and win-back management
Conducting renewal negotiations (leasing and insurances)
Organizing vehicle returns
Fleet managers have to juggle lots of different tasks simultaneously. Let us do the heavy lifts for you.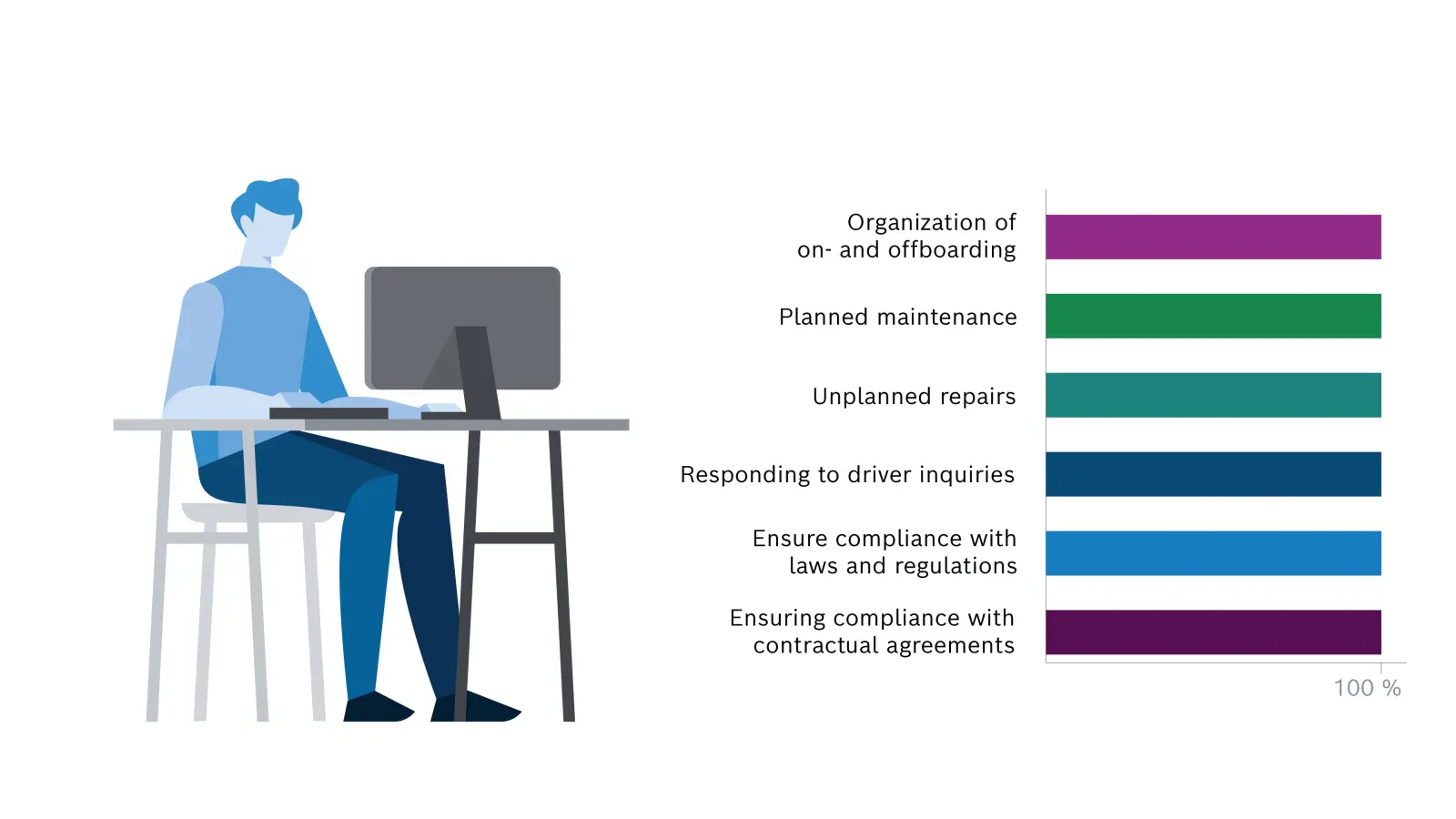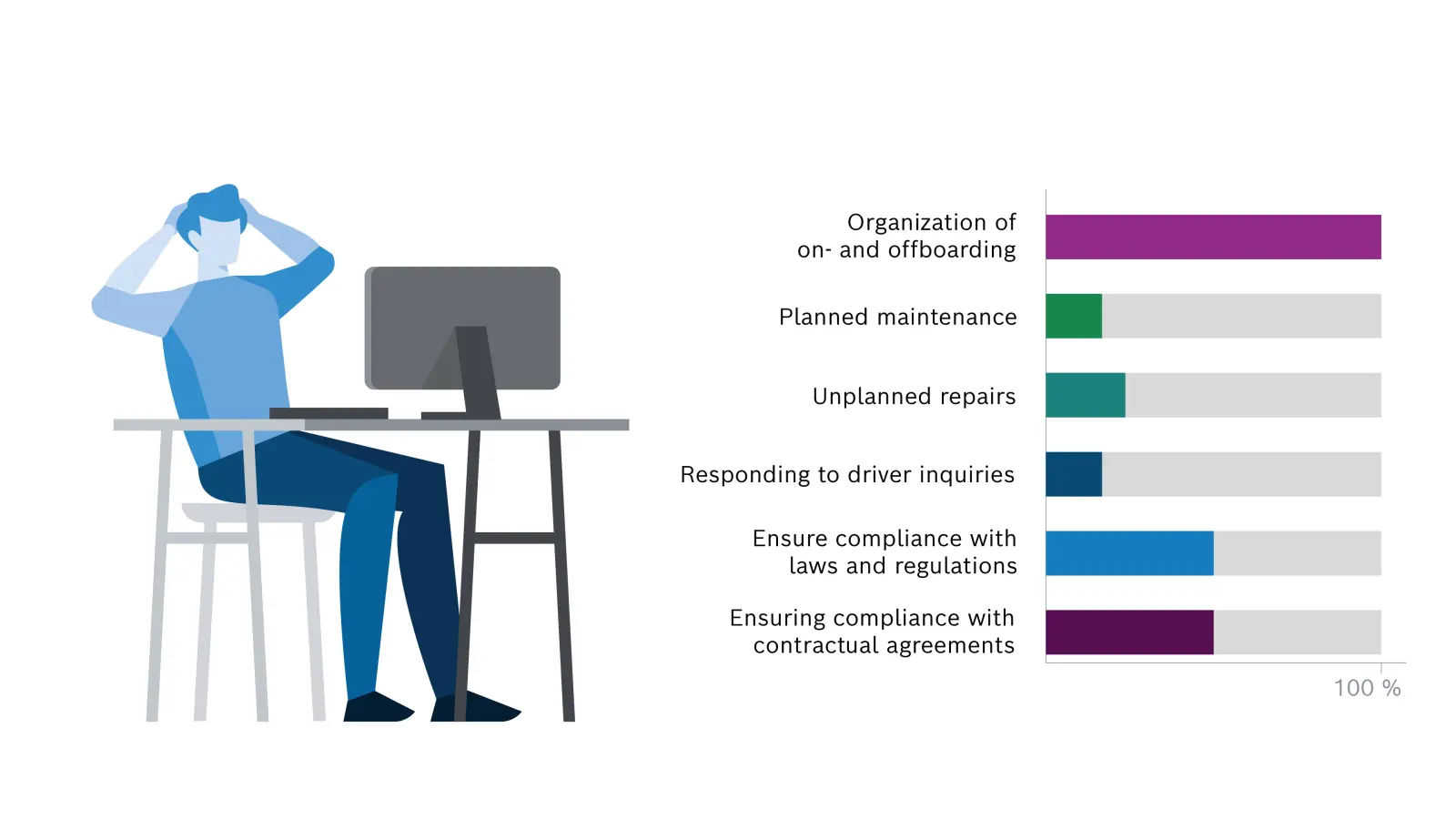 Every technical connection can act as an initiating element
Automatically triggered by the device installed by the vehicle manufacturer (e.g. eCall)
Automatically triggered by a smartphone (e.g. smartphone-based collision detection)
Automatically triggered by the retrofit device installed by the vehicle fleet management
Longer vehicle service life
Lower maintenance and administrative costs
Increased safety for drivers and vehicles
Better customer experience thanks to a single point of contact for drivers
A central point of contact supports customers before, during, and after the entire journey
Support provided in challenging situations, including breakdowns and accidents
Why Bosch Service Solutions?
Experience
We're specialists in all services for ensuring safe and more convenient, comfortable, and efficient mobility
Service design approach
We design our services based on the needs and business goals of your customers
Integrator expertise
Continuous partner management and digital connectivity of systems
Multilingual, global services
With our global network, we perform our services in more than 40 different languages
Agile and customer-focused approach
We quickly adapt our services to the changing needs and requirements of our customers
Compliance & data protection
We deliver services in Bosch quality and to most stringent compliance, data protection and privacy requirements
Get in touch with Bosch Service Solutions
We look forward to your inquiry.
Send us an email
Do you have any questions, ideas or requests? Write to us using the contact form.